Barclay Poodles Presents...
BARCLAY FIREFLY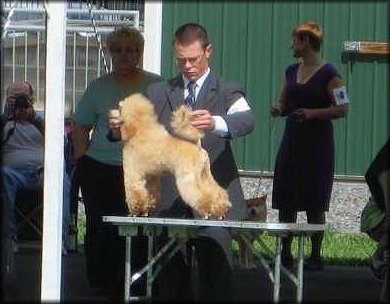 Barclay Firefly, aka "Danny" is owned by Barbara Burdick of Barclay Poodles and Maryann Messmer.
Being shown by Kirk Herrmann.
Photo clickable for larger view: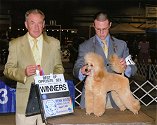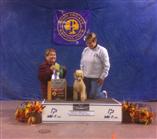 Danny finishes his Rally title with a score of 99 and came in 1st place at Penn Treaty KC.

"Danny", Barclay Firefly RN, CGC gets his first Rally Advanced leg at PCA 2013 with a score of 94


Pedigree

BARCLAY FIREFLY

Am Ch BARCLAY LYCA SUNNY-SIDE UP
Am Ch MELANGE THE JOKER
Am Ch LYCA NOVEL ATTRACTION
MELANGE NOTHING BUT THE BEST
Am Ch BARCLAY LYCA CAST A SPELL
Am Ch BARCLAY LYCA NEW DIMENTION
BARCLAY LYCA PUZZLE CONNECTION
Am Ch BARCLAY LYCA OH! HENRIETTA
Am Ch BARCLAY LYCA OH! HENRI
Am Ch LYCA RANSOME OF RED CHIEF
SIMI LYCA WILD THING
BARCLAY LYCA PUZZLE CONNECTION
Am Ch LYCA NOVEL CONNECTION
LYCA PIECE OF THE PUZZLE
Back To My Champion Mini Poodle Page
Thank you for visiting Barclay Poodles, specializing in apricot miniature poodle puppies and black / brown toy poodle puppies.
Copyright © 2009 - Present - Barclay Poodles - All rights reserved

This website is maintained by webmaster