Barclay Poodles
Story's Story

It started 5 1/2 weeks ago when I found a wonderful home for my 4 year old Barclay Lyca Just So Stories. The people were at my home a few times and I made friends with them. They also have a toy dog they rescued 9 years ago. After they had Story for a week the dad and son took her for a walk on March 5th. For whatever reason, she got away from them and started to run. It only took a few minutes and she was gone. They live in a lake area in Marlton, NJ about 2 hours away from me. I got there as soon as I got the call she ran off and the search started, it lasted for almost 6 weeks. I have been there 19 times looking, walking, driving, knocking on doors, giving out flyers, hanging flyers, going to the Shelters, vets and local groomers.
The area is acres and acres of woods called Marlton Lakes. People kept seeing her in one area then another; we left food, water and crates in several areas. We had friends and strangers looking for her. People I don't even know. I have to say the people of Marlton, NJ are the most caring people for pets of all kinds. They leave food and water out for anything that needs or wants it, one lady leaves a heating pad in a bed for a wild cat so it won't get cold. People took their kids every day in the woods to look for Story, they had dirt bikes and drove through the thicket and bramble.
On the evening of Thursday April 6th, 2 men who were local farmers and hunters called the fellow who had Story and told him to meet him on this dirt road that just kept going and going, they showed him footprints of a dog with a lead dragging (Yes, she had her lead on the whole time). He told Anthony he would put a trap up and catch her. He put some kind of chicken with gravy on it inside and then made a trail to the woods with it.
I had a very bad night thinking about Story and could not sleep, felt something funny inside. About 10:00 A.M the next day (April 7th), Anthony (the fellow who had Story) called and started yelling they got her, they got her. I thought that, that was the feeling I had last night.
Anthony said that after all the people who tried to get her and she keep running away, these guys were the ones to catch her, and they did. I got down there as fast as I could, told them not to open the trap until I got there. When I went to see her, she was just lying there like dead, I called her name and she jumped up and could not wait until I got her out to jump on me and kiss me. I didn't think she would know me but how can they forget the hand that feeds them.
I have Story home now and she is happily playing with her daughter Rikki Tikki Tavi pictured below. As you can see the before and after pictures of Story, she is not a gray she is cream. It took me over 3 hours to pick all the ticks off, I stopped counting after 200 on her and 2 on me. I can go on and on about the last 5 1/2 weeks but then it would be a book, but I really would like to thank the hundreds of people who cared and helped and got our dog back home for us, they will be in my prayers forever. What a wonderful community. Story and I would like to visit this wonderful community again and give everyone the opportunity to meet the wonderful dog they all worked to find!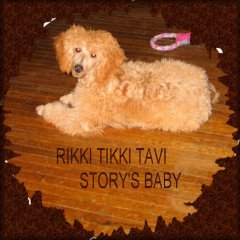 Navigate my site:
Home / Poodle Puppies / Mini Poodles / Stud Dogs / Toy Poodles
Brags / Grooming / Beauty & Brains / History
Favorite Photos / References / Our Rainbow Bridge Page
Letters Home










Thank you for visiting Barclay Poodles, specializing in apricot miniature poodle puppies and black / brown toy poodle puppies.
Copyright © 2009 - Present - Barclay Poodles - All rights reserved

This website is maintained by webmaster