Barclay Poodles Miniatures & Toys
| | | |
| --- | --- | --- |
| | Specializing in Apricot Miniature Poodles & Black / Brown Toy Poodles | |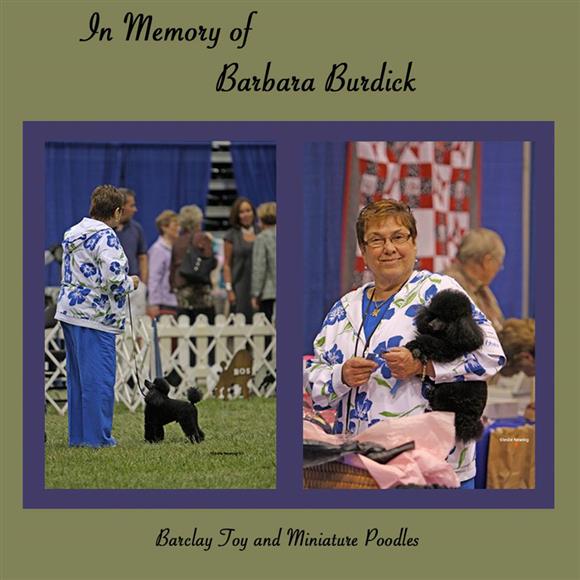 Billy's Champion Offspring
Ch BARCLAY LYCA HEAVENLY DESIGN

Poodle Club of America AWARD OF MERIT WINNER 2009
Beautiful presented by Miyki Ueno
UPDATE: "Mary Kate" earns BOS at PCA in 2010!

Billy earned Best Stud Dog at PCA in 2009 and 2010!

I am Barbara Burdick of Barclay Poodles. I have been breeding Poodles for over 25 years.
I consider myself a knowledgeable Poodle Breeder. I strive to breed for beauty, brains and health.
I am known for my Apricot Miniature Poodles and Black and Brown Toy Poodles. I enjoy showing myself and have been successful.
Before you get a pretty show dog you need the health and temperament. In my line of Miniature Poodles and Toy Poodles, I have both.
My Miniature Poodles are among the top obedience dogs in the country. I have a special page with all the obedience dogs I have bred. Please take a look. My Toy Poodles are also doing well in obedience, rally and agility.
I work hard to make the perfect Poodle Pet for everyone. After my Poodles finished in the show ring, they have a wonderful life as a house dog.
That is my goal. My litters of Poodle Puppies are raised upstairs in my home. When old enough, my Poodle Puppies are then moved down to my den
where they have more room and people come in and play with them. My grandchildren live next door and come in to play with the poodle puppies. Kids make happy puppies. Please browse my site to see my Happy Poodle Puppy People and my home.
Enter the links below to explore my site:

History

My Miniature Poodles Photos and Pedigrees

My Toy Poodles Photos and Pedigrees

Stud Dogs

Poodle Nursery Page Miniature & Toy Poodle Puppies For Sale

My Poodle Brag Page Updates on Barclay Poodles in the Show Ring

Beauty & Brains Barclay Poodles in Agility & Obedience

Camp Barclay Grooming Services

Fun Poodle Photos & Videos Oodles of Photos & Videos of Barclay Poodles

Letters Home Letters From My Puppies & Their Families

My Rainbow Bridge Page Friends Gone But Not Forgotten

Excellent Links Of Interest To Poodle People
Thank you for visiting Barclay Poodles, specializing in apricot miniature poodle puppies and black / brown toy poodle puppies.
Copyright © 2009 - Present - Barclay Poodles - All rights reserved

This website is maintained by webmaster