Barclay Poodles Presents...

Puppy Letters
I really enjoy the letters and photos I receive from poodle puppies I've bred and their families. So I've decided to start collecting them on this page.
Page 1, Page 2, Page 3, Page 4, Page 5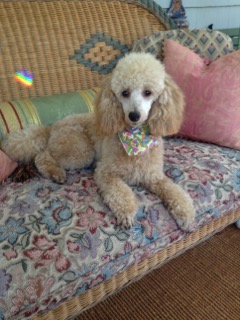 Hi Barbara,
We want to thank you for the adorable card and wish you a Merry Christmas. I am attaching a photo of our beautiful Isabelle. She is such a fun companion. We just love her!
Happy Holidays!
Bill & Carol Dempsey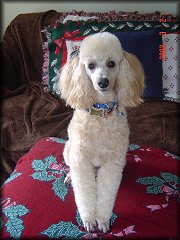 Hello!

We just wanted to update you on Tanner who is now a year old and has been with us for almost a year.
Tanner has adjusted very well to the Wilson routine and has found his place in our home and in our heart! He spends most of his day (during the work week) next door with Paw Paw who has taught him to catch frisbee and many other "tricks". He lives a pretty good life with his grandparents during the day. Once we get home from work he is kept busy by our routines and enjoys playing with Bryce and Abby. Needless to say, he is ready to cuddle into bed with Mom and Dad at night.
He has been a wonderful addition to our family and is a joy to have in our home. Thank you for all your hard work and talents. Please know you rank top of the list as far as we are concerned. I have attached a picture so you can see what a beauty you gave us!
Thanks again!
Wayne, Denise, Bryce, Abby and Tanner Wilson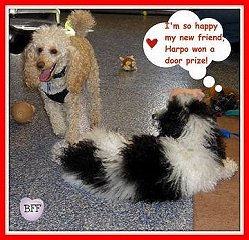 Hi Barb,

Hope you're doing well.
Harpo is now a new member of a small dog play group, which includes some poodles. His first date with the group was yesterday (photo attached). Still, his favorite pals are really two of his neighbors, a schoodle and an Australian Ridgeback. The Australian Ridgeback tore out my backyard today trying to catch Harpo, which was tough because Harpo makes a lot of sudden and very sharp turns!
Best wishes,
Brenda
Barbara,

You absolutely breed the best looking and best temperament poodles I have ever seen. No poodle I have ever seen compares to the barclay bunch! I am so glad that I called you when I did. I wasn't going to because I was so upset over losing Savannah but my husband talked me into it. Now we have this beautiful little girl!
Luanne DiGuglielmo
Hi Barbara,

Am sitting on the couch next to Puppet (aka Puppy Girl), the miniature poodle I was lucky enough to get from you some twelve years ago. She's snoozing after a long outing in the field with my son's dog and a psychotic apricot toy poodle---sniffing, rolling in the grass and ball chasing.
She will be thirteen on 9/11 and shows no sign of slowing down. She has weighed the same 14 lbs that she did when she was a year old.

She does not have a mean bone in her body and is my shadow. Around ten at night, she gets a toy from her toy basket, tosses it up in the air a couple of times and then finds something, to drop it in such as a deep box. She scratches on the box and then ruffs at me until I get up and retrieve the ball for her. She repeats the game until I tell her that I don't want to play anymore. She is also very much into burying biscuits in the dirt or under pillows. Everybody loves her. I just wanted to thank you for all the joy she has given me.

Best wishes,
Barbara
Hi Barbara,

Its Tanya Isaachoff I hope you're well. I just wanted to call and tell you how much I adore my little Lucy she's just such a precious angel and we love her so much and I can't tell you how many compliments I got on her. I can't walk down the street and not get stopped by someone who is doing it online over her just a couple weeks ago I was in the park and about four people asked me where I got her and if I would give your name and number. So she's just a precious Gem and she really is so special and I have friends who are thinking about getting a dog and if they do they want to get one from you. So I will of course let you know when and if they decide but we just love her so much and I wanted to let you know that now and I saw pictures of Arthur on Facebook and he look so precious. So anyway I hope you're well and I hope all the doggies are well and I hope you're having a great summer. No need to call me back but if you wants.


Barbara,

They are precious...we are out on the screened porch enjoying this gorgeous summer morning.
Billy is the most affectionate dog we have ever had. In the morning he kisses me first thing and
then can't wait to get to Bill. He is so sweet. We could not have gotten a more perfect boy.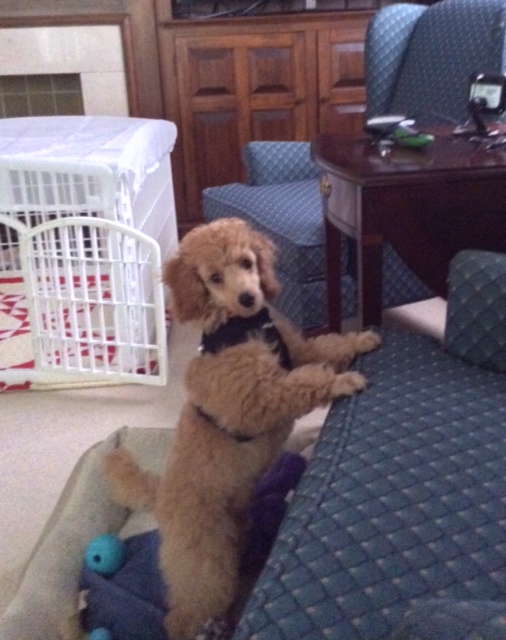 Good morning Barbara,

Every day is getting better. Sometimes he takes "wild" spells with running & jumping. Other than that he is doing good. Crate training is good - he even goes in to take a nap. He is sooooo smart. Got his second shot yesterday & did fine at the vets - seemed calm except when we first went in but got over it quickly.
We are amazed at how much he likes riding in the car - come January he will go on a long trip to Florida!
Hope all is well with you.

Brenda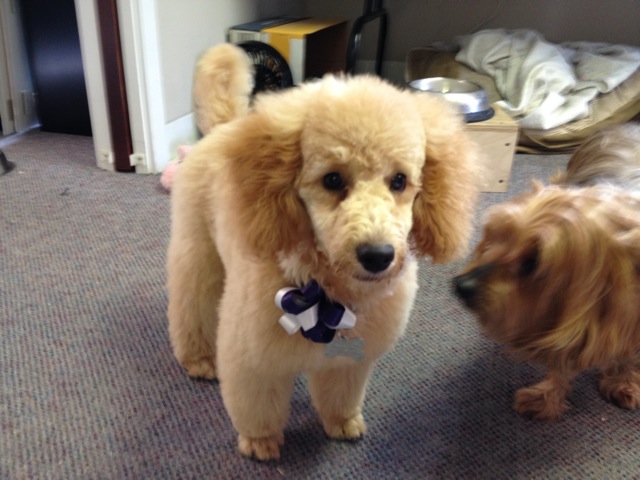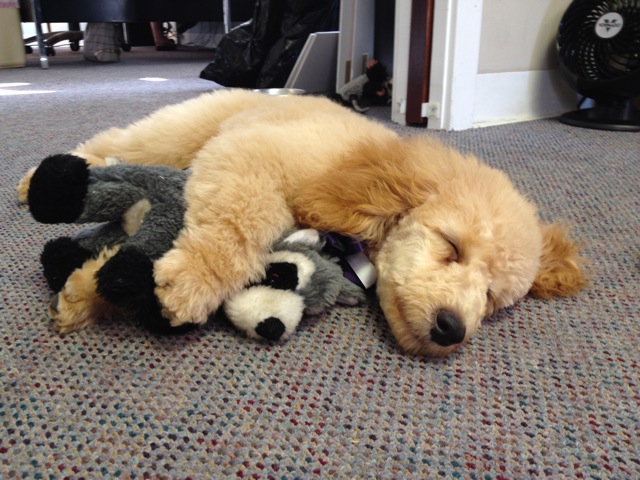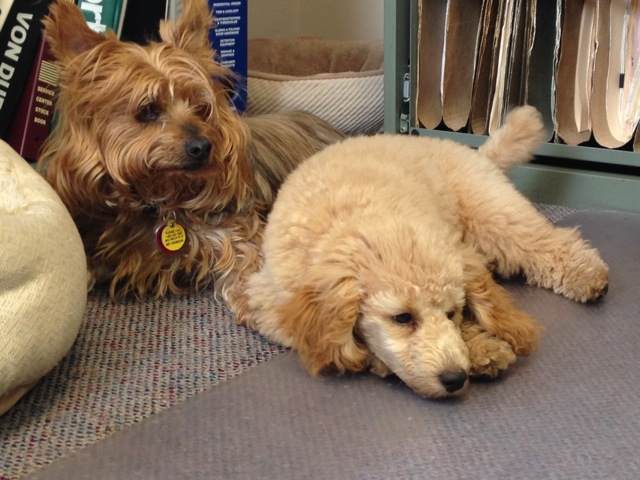 Hi Barbara,
Sorry for not writing back to you earlier. Otis has been doing great! He went to the groomer for the first time last week and was really well behaved. The groomer couldn't stop talking about how nice his coat was and she doesn't see dogs like him everyday. Otis also had his first vet appointment the other week and as expected checked out fine.
Attached are a few pictures of the little guy being his wonderful little self! We are so glad he is part of our family!
-Vinny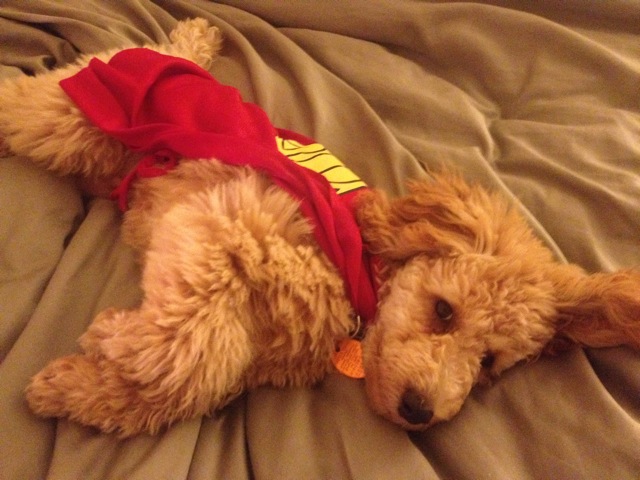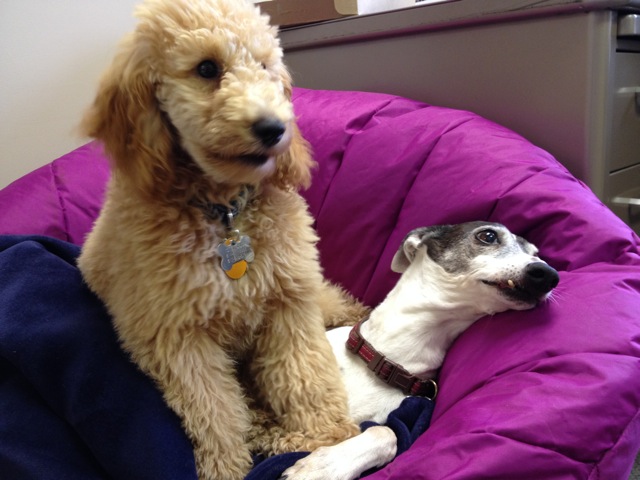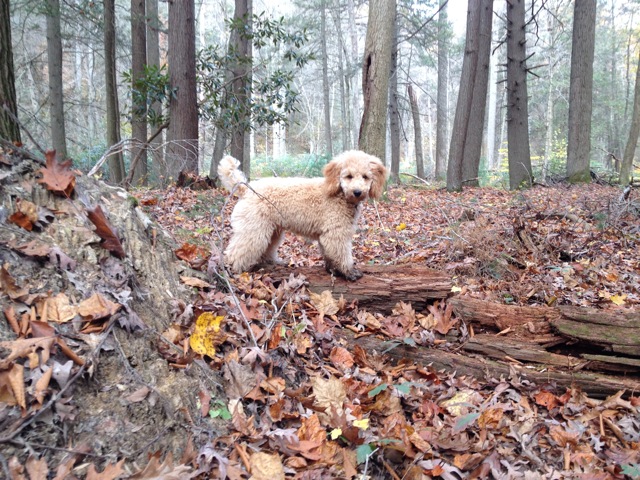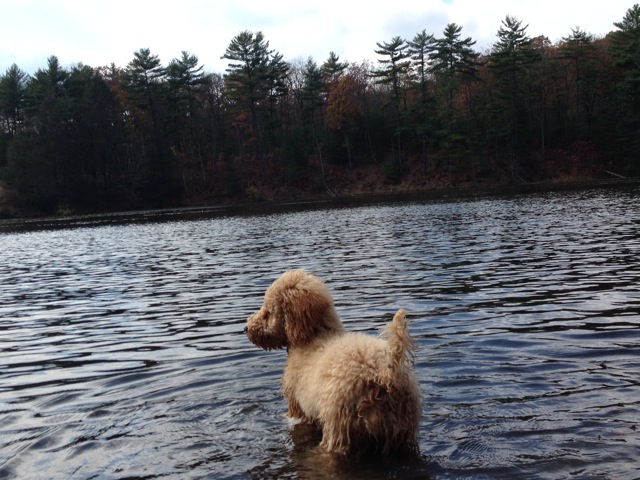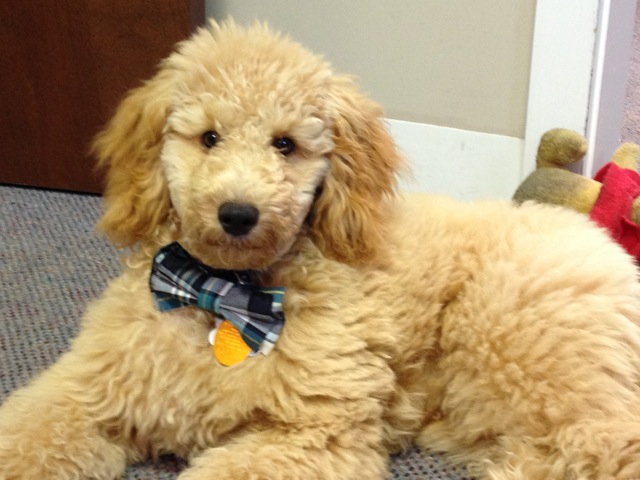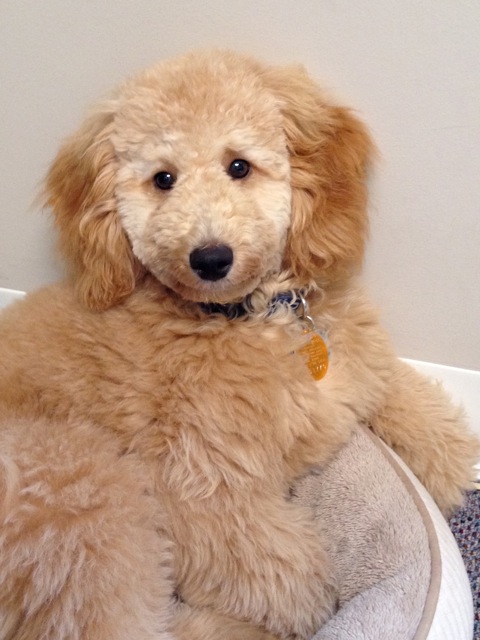 Hi Barbara,

Otis has been doing great! He's such a good boy at work and really fits in with the other dogs. We've been taking Otis to puppy kindergarten and have enjoyed teaching him new tricks. Anna and I can't get over how smart he is and how quickly he catches on to what we want him to do.
Anytime we take Otis out, someone always stops us and wan't to know what type of dog he is. They can't get over how well behaved he is and how soft and smooth his coat is!

Attached are a few pictures of him on his recent adventures...

-Vinny
Navigate my site:
Home / Poodle Puppies / Mini Poodles / Stud Dogs / Toy Poodles
Brags / Grooming / Beauty & Brains / History
Favorite Photos/Video / References / Our Rainbow Bridge Page
Letters Home
Thank you for visiting Barclay Poodles, specializing in apricot miniature poodle puppies and black / brown toy poodle puppies.
Copyright © 2009 - Present - Barclay Poodles - All rights reserved

This website is maintained by webmaster