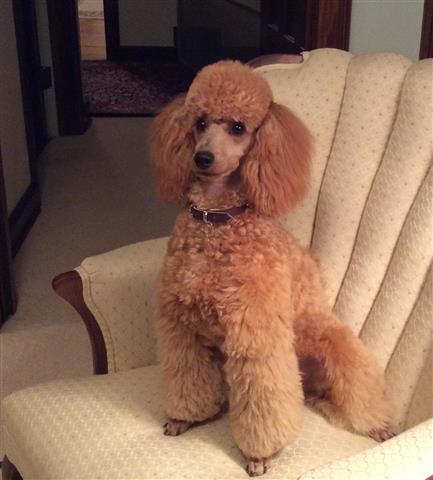 Hi Barbara,
Wanted to let you know Mr. Blake has been neutered - 3/11/2015. He got along very well - didn't even need pain pills. He's back to his ornery self again.
He MAY have settled down a little. We got back from FL in time for him to see the snow. He couldn't find a place to go pee - it was all covered with that cold white stuff.
Everyone we came in touch with in FL thought he was beautiful - they thought he was a show dog!
He is a wonderful pup - sure helped us get over the sadness of losing Max.
Hope you and all the pups are well.
Everett & Brenda & Blake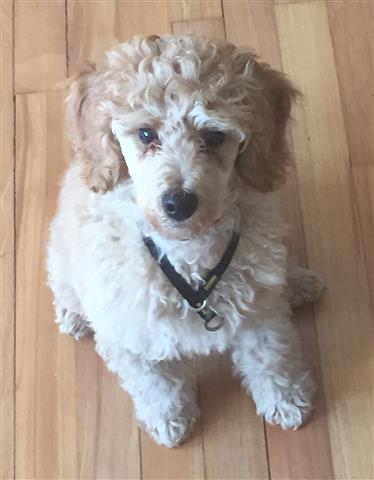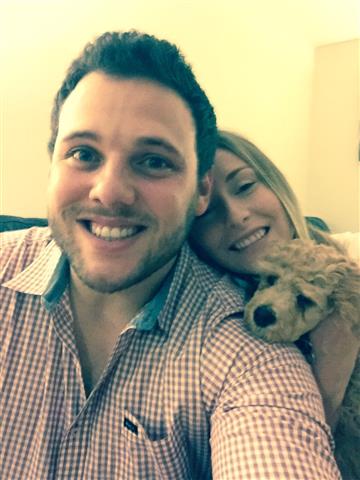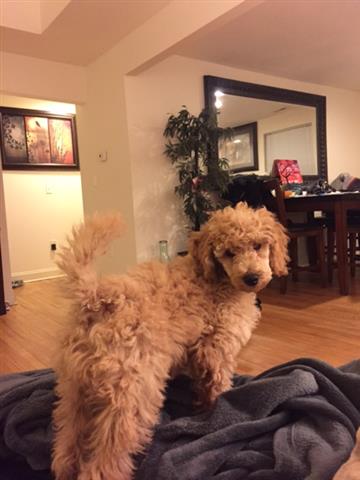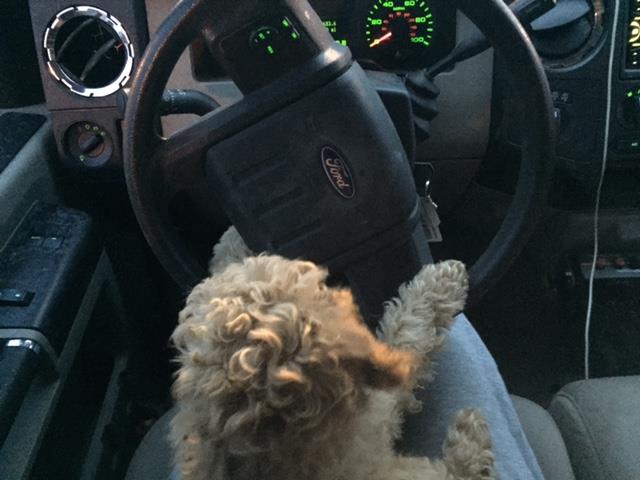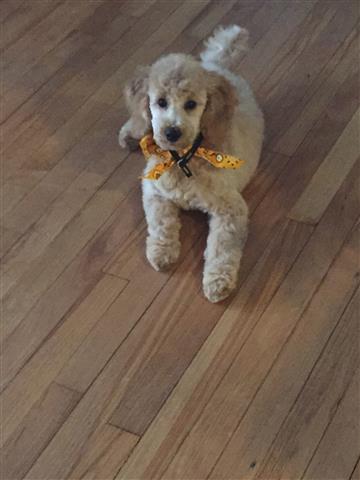 Hi Barbara,
Rocco is doing wonderful! He is about 13 lbs and is a ball full of energy. He loves running around in the snow and chasing snowflakes. He has also learned how to help "mommy" and "daddy" drive our snowploe truck. He has been such a lovely companion and we are so grateful to have in our lives. Attached are some pics of him.

Nadiya and Josh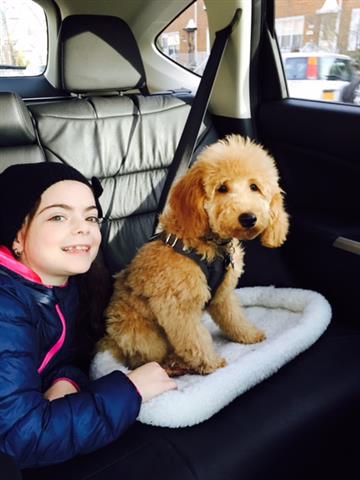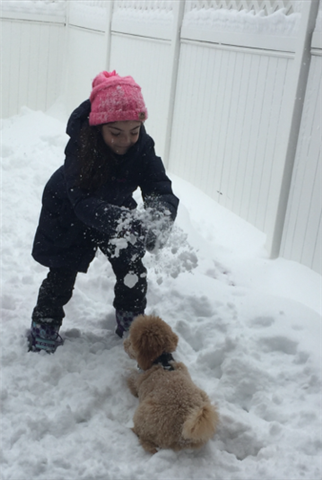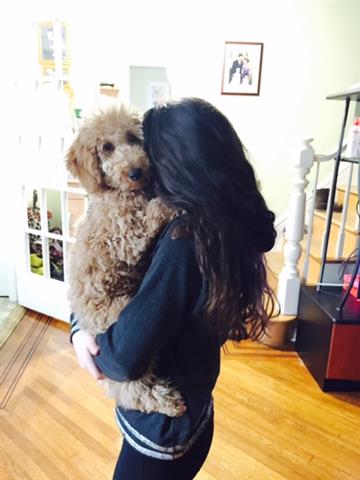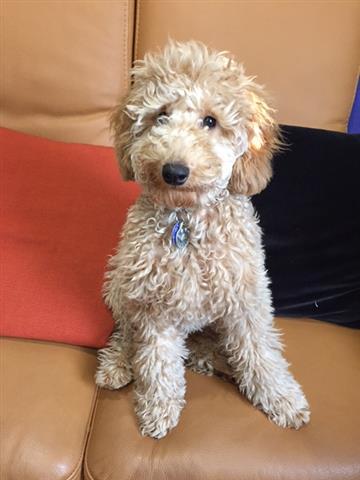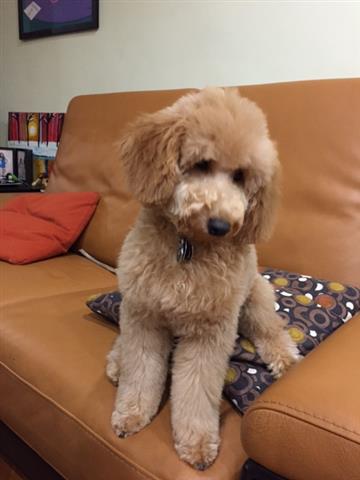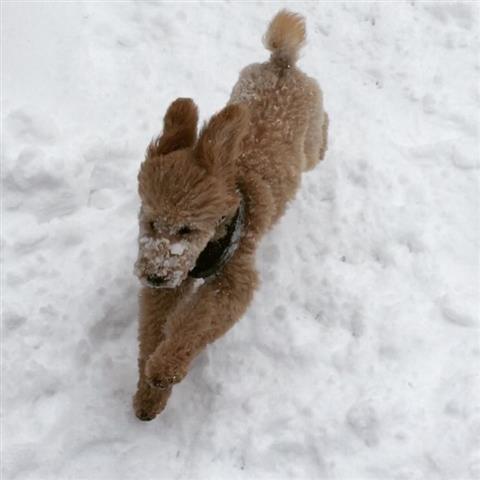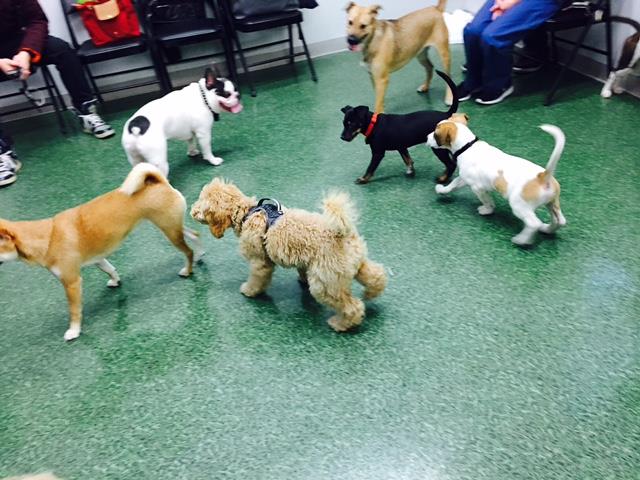 Hi Barbara,
Charlie is doing really well. He is not super crazy about going outside especially on the colder days. And he mostly does his business on the wee wee pads inside.
Getting really big, almost 15 pounds already. Here are some pics. Would love to know how his siblings are doing so I am replying to all.
Natalie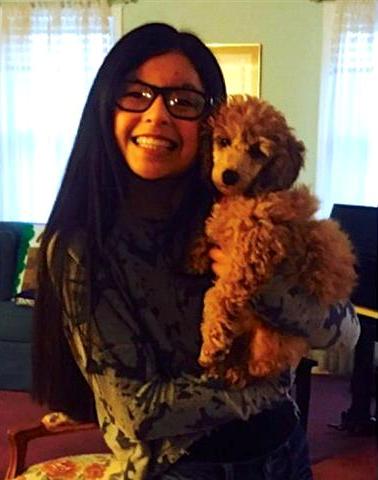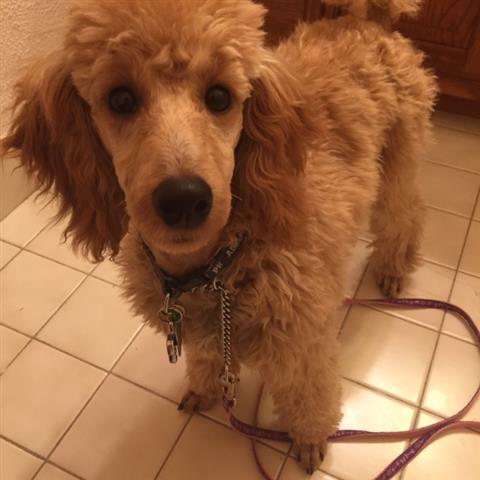 Hi Barbara,
I've had enough of the cold weather but Roxie loves the snow! She likes to stick her nose in and comes up covered in snow. She is now abut 11 lbs. She has a very "delicate" tummy- I've had to keep her on the Iams low residue food- anything else and she was getting diarrhea, even with the probiotics. Smart girl that she is, even with an upset tummy she would bark and keep her crate clean. She goes to doggie daycare when I am working. It is an 'in home daycare' with the dog trainer. She plays with the same two little dogs and is happy to go there. The girls are in LOVE and Roxie goes crazy everyday when they get off the school bus.
I've attached a few pictures too
Diane
Hi Barbara,
Theo is doing great. Isn't he a beauty? He's a pistol. So much energy and personality. More so than my last 3. He will need a lot more work than the last 3, too. He thinks of things that never even occurred to them :-) You were right Barbara.
The weather certainly is a challenge for me, not him. He'd stay out forever and pose. He's super smart. Entertains himself and makes up games.
We love him to pieces

Sent from my iPhone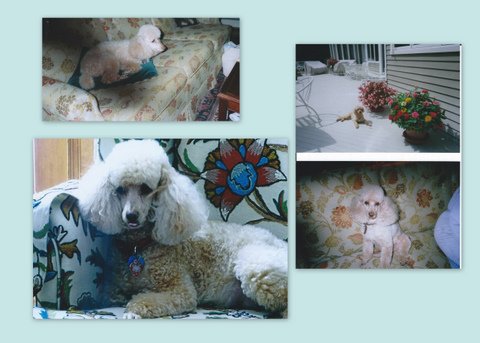 Treasure's 10th birthday
Hi Barbara,
I lost my dear mom last November. Very quick to bone cancer.
Thankfully I have Treasure to keep me company. Some day I will have to get her (and me) another companion.
Best wishes,
Jim
P.S. Treasure has it pretty good with Jim Manninen in Cape Cod, she has the life.
Hi Barb,
We are moving to Naples..we will be staying in our condo there for a while to catch our breath and see if we like it enough to make it permanent. We have never stayed beyond April so it will be an experiment for sure. Billy and Fave love our screened porch..we are on a second floor and they can view all the neighbor dogs walking by. The trade off is the yard they have here in PA for walks on leash in FL. They don't seem to mind the walks. Bill and I are exhausted from this move and all the cleaning out, packing and prayer that our Buyer gets his mortgage. Other than that we are good and looking forward to heading south.

We will definitely not forget you. Getting Billy at such a sad time in our life was truly magic or devine inspiration. He continues to make us laugh...he is such a wonderful spirit. Bill and Billy spend each evening together watching TV. We kind of vie for who gets him for lap time. He is a joyous dog and are grateful to have met you and to find our Billy.

Best,

Carol, Bill, Fave & Billy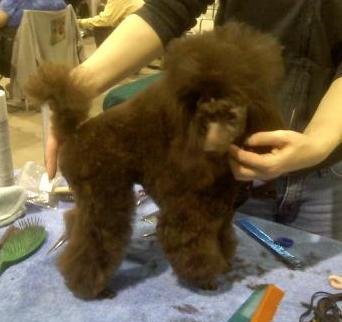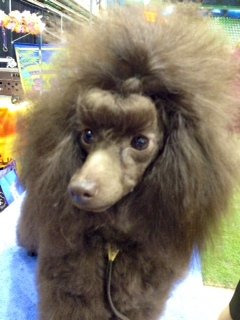 Hello Barb,
THINKING OF YOU TODAY. Just wanted to tell you that we love our little Paige. She is so sweet, makes us laugh a lot, plays with the cat, runs and runs in the yard.
She likes Molly and Cozy and they like her. All three make us so happy. Thanks again for all three girls. XoXoXo
Keep in touch.
God Bless, Shirley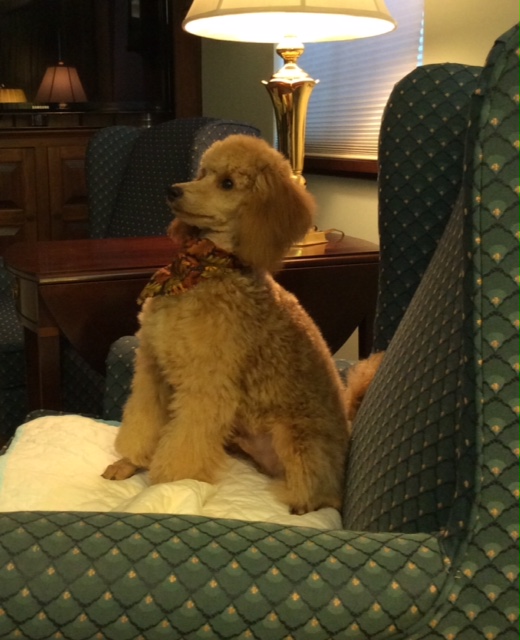 Hi Barbara,
This little guy is growing like a weed! Each morning we say he grew last night. He brings us so much joy! Training is going pretty good. He listens so good to the trainer but tries to show himself when it's just us but he is getting much better. He is soooo smart. Lost all his teeth except one eye tooth - may have to have it pulled because the other one is coming in beside it. I'm anxious to see how he acts when all the family comes tomorrow.
Hope you have a good Thanksgiving. We leave for Florida on 12/30 - Blake will love the ocean.
Brenda & Everett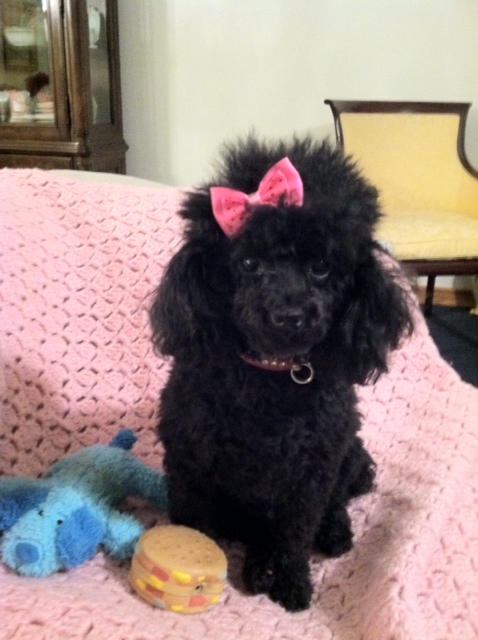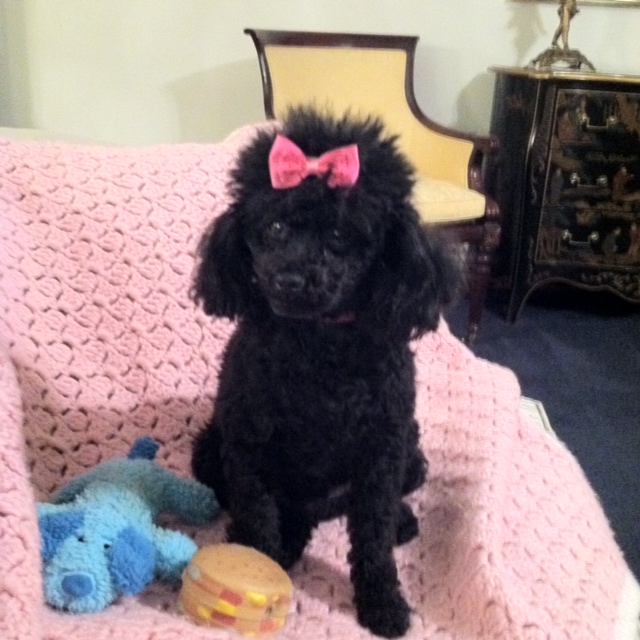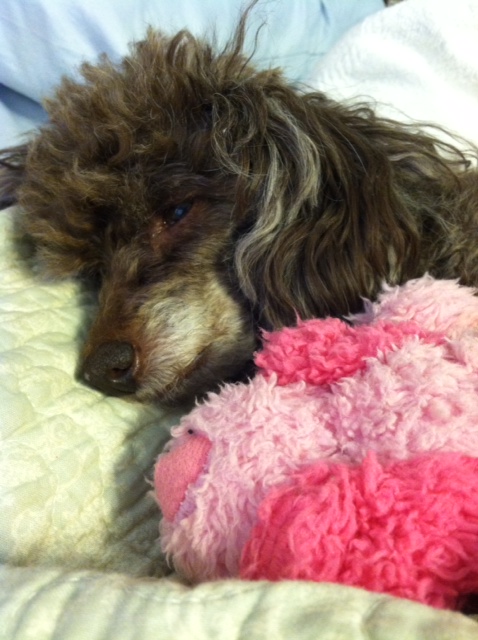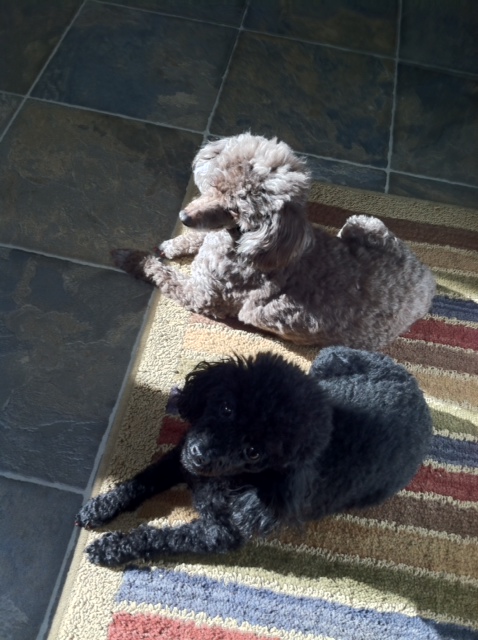 Hi Barbara,
Today our Princess is 3 years old.
Barclay Just for the Fun of It. Born 12/13/11. Remy sends love and LOTS of kisses to you and all her buddies. Thank you for all you have done for the Poodle world and giving us this beautiful angel. You are a very special person and I knew immediately I would always be your friend. You are so professional and ethical. It is obvious you love your poodles.
Thank you for the Christmas Card. That is so cute. We show it to all our friends & say proudly we are blessed to have a poodle from you.
Love,
Jill, Neil , Remy & Miranda poodle